Al's Taxidermy Skull Cleaning Service

SKULL CLEANING TAXIDERMY GALLERY

At Alís Taxidermy Studio we do skull cleaning for your European mount with dermestid beetles. We also have butternut slab laser engraved panels to enhance your trophy European mount, for whitetail deer skulls, and black bear skulls. We do various animal skulls, elk skulls, mule deer skulls, wild boar skulls, goat skulls, bighorn sheep skulls, moose skulls, mountain lion skulls, wolf skulls, Texas longhorn skulls, fox skulls, coyote skulls, beaver skulls, bobcat skulls, are some of the dermestid beetle favorites.

30-day turnaround on deer and elk!
---
---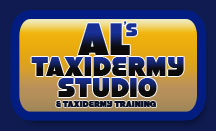 Alan Meiers
Wisconsin Taxidermist &
Taxidermy Instructor
W5388 Navarino Road
Shiocton, WI 54170
715 758-6106
email
meiersalan@gmail.com